Springfield
Client Long-Term Sustainability Project

For families who access Isabel's House crisis nursery services three or more time per year, a family advocate provides face-to-face follow up meetings.  In addition to crisis care resolution, prevention services are provided during a 12-month period.  Family advocates meet with families in their home or other community setting to develop skills and build tools to handle future daily emergencies and crisis situations.  Isabel's House is a respite crisis care emergency facility that provides children a safe environment at times when the risk of abuse/neglect in the home are increased.  The crisis nursery program offers 24-hour child care free of charge for a maximum of 30 days per year in order to relieve a potential or existing emergency within the family. Parents voluntarily request and arrange this service.
For more information:
Kristen Buckley, Program Manager
417-865-2273
isabelshouse.org
CTF License Plate Marketing Partner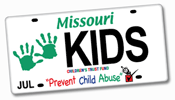 Utilizes funds from sale of the CTF prevent child abuse license plate in Christian, Greene and Webster counties to provide additional support to the Assistant Family Advocate and direct care staff positions so that appropriate staff to child ratios can be maintained.  Funds also provide opportunity for greater community awareness of the Crisis Nursery program.
For more information:
Kristen Buckley, Program Manager
417-865-2273
isabelshouse.org