St. Louis
Bright Futures

Links highly skilled Registered Nurses with high-risk, low-income families experiencing a pregnancy or recent birth.  The nurse visits families in their homes providing medical assessment, teaching, parent coaching, case management and advocacy.
For more information:
Melinda Ohlemiller, Executive Director  314-544-3433
www.nfnf.org
CTF License Plate Marketing Partner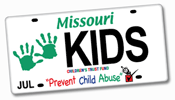 Utilizes funding from sale of the CTF specialty license plate to provide nurse home visitation services for medically fragile and other at risk children and families within Nurses For Newborns service area.
For more information:
Rich Hennicke, Grants Manager  314-544-3433
www.nfnf.org
Community outreach moms help new moms care for babies – [St. Louis Post Dispatch - February 23, 2012]