Caruthersville
CTF License Plate Marketing Partner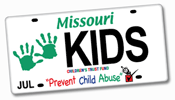 Pemiscot County Initiative Network utilizes funds from the sale of the CTF prevent child abuse license plate in Dunklin and Pemiscot counties to provide parents with young children in need with safety seats and safe cribs.  With additional funds, mini-grants will be offered by PIN to community-based organizations working to prevent child abuse and neglect.
For more information:
Mabeline Woods
573-333-5301



Caruthersville
Families Support Project
Prevention Focus: Secondary – Parent Education
Discretionary Grant
The Pemiscot County Initiative Network will offer Parenting Now! parent education classes to families in the community and families served by the Stapleton Family Counseling Center. The Parenting Now! Curriculum is offered through seven week sessions and focuses on topics such as developing parents skills including positive discipline, meeting the emotional needs of children, and increasing knowledge of child development. The classes also provides opportunities to share information about other community resources and reducing isolation among participants. Service area is Pemiscot County.
For more information:
Mabeline Woods
573-333-5301