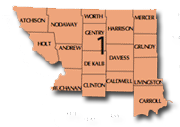 Region 1 is comprised of the northwest Missouri counties of Andrew, Atchison, Buchanan, Caldwell, Carroll, Clinton, Daviess, DeKalb, Gentry, Grundy, Harrison, Holt, Livingston, Mercer, Nodaway, and Worth.
Catholic Charities of Kansas City – St. Joseph

24/7 DAD
The 24/7 DAD project serves biological, adoptive and stepparent fathers for community youth, including children participating in the Teen/Community Awareness Program in St. Joseph.  The population served includes families that may be experiencing financial issues (unemployed or underemployed), substance abuse, and those who use inappropriate conflict resolution and other factors that may put the family at risk for child abuse or neglect.  The program works by engaging fathers in education and activities who increase their parenting knowledge and skills vital to successful family functioning; fostering nurturing relationships; and emphasizing the importance of a father's presence in creating a healthy environment for children.
For more information:
Judy Thompson, Associate Director
816-221-4377
North Central Missouri Mental Health Center, Trenton
CTF License Plate Marketing Partner
Utilizes funds from sale of the CTF specialty prevent child abuse license plate to provide parenting classes offered at no cost to the community.  Classes are open to parents, grandparents, caretakers, childcare workers, school personnel and anyone having an interest in child development and parenting.
For more information:
Lori Irvine, Executive Director
(660)359-4487
PATCH of Chillicothe
PATCH
PATCH of Chillicothe provides children and their mothers housed at Chillicothe Correctional Center services necessary to maintain contact and strengthen family relationships during periods of separation due to incarceration.  Services during this time help to  reduce the risk of abuse and neglect when the incarcerated parent is reunified with their child(ren).  PATCH Provides required parent education classes to increase understanding and improve the parenting skills of offender mothers; supervised visits in PATCH visiting rooms reserved for one mother and her children; transportation for children who need rides to visit their mothers in prison; ongoing support and encouragement to help mothers improve interactions with their children.  Mothers must complete an eight week parent education course using Turning Points, a promising practice parent training program, in order to be eligible for a 4-hour visit with their child(ren) through the PATCH program.  Additional visits may be earned through on-going participation in the PATCH Parent Support Group meetings.
For more information:
Barb Burton, Program Director
(800)284-0145
St. Joseph Youth Alliance, St. Joseph
Family Connections
Circle of Parents© provides a friendly, supportive environment led by parents and other caregivers. It's a place where anyone in a parenting role can openly discuss the successes and challenges of raising children and where caregivers can find and share support.  The St. Joseph Youth Alliance offers Circle of Parents© groups for low-income families, families that have used the local crisis care center, grandparents raising grandchildren, and minority communities, including a Hispanic group.  The St. Joseph Youth Alliance is working with community centers, the Noyes Home for Children, the Northwest Area Agency on Aging and the YWCA to ensure that the groups are accessible.
For more information:
Robin Hammond, Executive Director
(816)232-0050
St. Joseph Youth Alliance, St. Joseph
CTF License Plate Marketing Partner
St. Joseph Youth Alliance, with the support of the community Coalition for Child Abuse Prevention, will utilize funds raised through marketing the CTF Prevent Child Abuse License Plate to supply new cribs and mattresses that meet current quality safety requirements to families most at risk of co-sleeping.  Safe sleep education will be dissemenated to each family.
For more information:
Robin Hammond, Executive Director
(816)232-0050
YWCA of St. Joseph, St. Joseph
Parenting for Prevention
Parenting for Prevention increases the availability of parenting classes.  Two ten-week sessions are held to provide parents information and to help develop parenting skills necessary to raising healthy children and decreasing the risk of child abuse and neglect.  Class topics center around understanding child development, developing positive family communications, building positive social and emotional skills in both parent and child (responsiveness, sensitivity, nurturing), discipline and appropriate behavior management, and promoting self-reliance by making available information about existing community services such as Parents as Teachers, Early Head Start, Circle of Parents, Success by Six and others.
For more information:
Ellen Kisker, Prevention Educator
(816)232-4481

YWCA of St. Joseph, St. Joseph
CTF License Plate Marketing Partner
Utilizes funds from the sale of the CTF specialty prevent child abuse license plate to support the Moms' Time program.  Moms' Time provides stress relief for moms and grandparents raising young children. In addition to stress relief activities, group sessions are held and include parenting skills, stress management, safety, health and discipline issues, as well as many other topics of interest for caretakers.
For more information:
Ellen Kisker, Prevention Educator
(816)232-4481