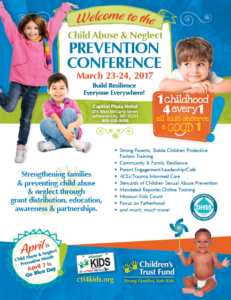 The Children's Trust Fund (CTF) hosted its Strengthening Families/Child Abuse & Neglect Prevention Conference — Build Resilience, Everyone Everywhere! — March 23-24, 2017 at the Capital Plaza Hotel in Jefferson City, Missouri.  Thank you to all — keynote speakers, presenters, sponsors, attendees — for making it a fantastic success.  CTF hopes to see everyone again at its next conference scheduled Spring 2019.  Thank you again, and please stay resilient in your work to build Strong Families, Safe Kids!
*2017 Conference Videos Coming Soon!
Conference headliners included:
Suzanne Greenberg, President & CEO of Child Abuse & Neglect Council of Saginaw County Michigan;
David Schramm, Ph.D., Family Life Specialist & Assistant Professor at Utah State University, Logan, Utah;
D.J. 'Eagle Bear' Vanas, Motivational Storyteller & Leadership Expert, Colorado Springs, Colorado;
FRIENDS National Resource Center for Community Based Child Abuse Prevention, Chapel Hill, North Carolina.
The conference provided an excellent opportunity to network with colleagues and learn more about many successful prevention strategies, initiatives, & models including:
What makes families & communities resilient
Engaging parent leaders
How to effectively implement Parent Café's
Identifying Adverse Childhood Experiences & applying Trauma Informed Care in your work
The new Missouri-based online training for mandated reporters
Darkness to Light – Stewards of Children Training for child sexual abuse prevention
Strong Parents, Stable Children Training on the protective factors to keep families healthy & safe
The Focus on Fatherhood Program
Effectively telling the prevention story
Understanding & using cost analysis
Missouri Kids Count
Inspiring the Warrior Spirit within you
And much, much more!
View 2017 Conference Agenda & Schedule Here.