Hannibal
RealCare Baby Prevention Project
General Prevention Grant
Prevention Focus: Primary – Teen Pregnancy Prevention (School-Based)

The RealCare Baby Prevention Project strives to reduce the risk of child abuse and neglect by strengthening adolescents' knowledge of infant needs and parent responsibilities through the use of high-tech infant simulators. Working in partnership with schools, educational programs using the RealCare Babies will be established in seven northeast Missouri counties (Marion, Ralls, Shelby, Monroe, Pike, Lewis, Clark) with the goal of encouraging teens to delay pregnancy and parenting.
For more information:
Sandra Ahlum, M.D., Chairperson
573-231-3107
chartteentaskforce.org
Hannibal
CTF License Plate Marketing Partner
Marion, Ralls, Shelby, Monroe, Pike, Lewis, and Clark counties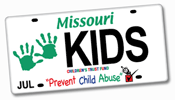 Utilizes funding from sale of the CTF specialty license plate to provide a public awareness campaign in northeast Missouri regarding teen pregnancy prevention.
For more information:
Sandra Ahlum, M.D., Chairperson
573-231-3107
chartteentaskforce.org