Kansas City
BraveHearts for Dad
General Prevention Grant
Prevention Focus:  Secondary – Father Support and Education


The BraveHearts for Dad program assists fathers in understanding the pivotal role and responsibility they play in their own child's well-being including impacting overall developmental, physical and psychological outcomes of their child.  BraveHearts For Dad implements the 24/7 Dads® curriculum from the National Fatherhood Initiative (NFI).  24/7 Dads is an evidenced-informed program and offers twelve topics/modules of fathering curriculum. Among the topics are self-awareness, caring for self, fathering skills, parenting skills and relationship skills.  Service area includes Buchanan, Cass, Clay, Jackson, and Platte counties.
For more information:
Amy Sielaff
816-508-1620
cornerstonesofcare.org

Kansas City
CTF License Plate Marketing Partner
Jackson, Clay and Ray counties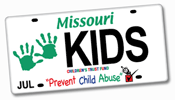 Utilizes funds from sale of the CTF specialty prevent child abuse license plate to support the BraveHearts Program.  BraveHearts is a fathering initiative designed to provide an array of services to at-risk fathers. Through a workshop series, fathers learn the important role they play, how to be an active father, and positively contribute to their children's lives and well being. Case management services are provided to participants who desire to improve their economic circumstances. Upon workshop completion, graduates receive father-to-father mentoring provided by a positive male role model who encourages them to reconnect and stay connected to their children. Monthly activities are planned for dads, their children, and mentor with peer support from other program participants.  BraveHearts goals include reducing risks of child abuse and neglect, increasing father-child involvement and improving a father's financial capacity, all in the pursuit of raising happy, healthy children into adulthood.
For more information:
Denise Cross, President & Chief Executive Officer
816-508-1700
cornerstonesofcare.org