Dexter
CTF License Plate Marketing Partner
Stoddard, Scott, Mississippi, and New Madrid counties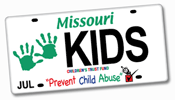 Utilizes funds from the Children's Trust Fund prevent child abuse license plate to support Mother to Mother, a mentoring program for expecting and new parents age 21 years or younger. Prevention activities include parent support through home visits, safe home risk assessments, safe crib, parent education, mentoring and infant safety.
For more information:
Melinda Sweeney, Program Coordinator
573-624-1607
regionalhf.org

Dexter


Mother-to-Mother
General Prevention Grant
Prevention model: Secondary – Parent Support and Education
A Family Resource Center model is used to support at-risk pregnant and parenting families in Stoddard County through providing home visitation services; parent education and training; peer and social support through peer activities and mentoring; Parents as Teachers; knowledge of primary care initiatives; and linkage to resources such as literacy, employment and housing.
For more information:
Melinda Sweeney, Program Coordinator
573-624-1607
regionalhf.org