St. Louis
CTF License Plate Marketing Partner
St. Louis City and St. Louis County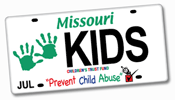 Utilizes funding from the Children's Trust Fund prevent child abuse license plate to support salaries and related expenses of the Family Support Network (FSN).  The FSN provides weekly, cost-free, home-based family therapy tailored to the needs of families identified as at-risk for child abuse and neglect.  Therapists provide a combination of individual and family talk-therapy, play therapy when appropriate, and case management and advocacy services to ensure families are equipped to access the supports available to them.
For more information:
Stephanie DeChambeau
314-918-3411
epworth.org