St. Louis
CTF License Plate Marketing Partner
St. Louis City and St. Louis County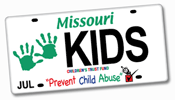 Utilizes funds from the sale of the CTF specialty prevent child abuse license plate to assist the Pregnancy & Parenting Support (PPS) program.  The goals of the PPs program include a healthy delivery for the child and mother and stabilization of the family and home environment.  The program also provides new parents with the skills, knowledge and supports needed to stop the cycle of abuse.  The services provided are individualized – based upon the unique needs and strengths of each woman and family.  The PPS program assists parents in knowing how to care properly for their children in a nurturing and healthy environment, so both mother and child have the tools needed to reach their full potential.
For more information:
Michael Meehan, Ph.D., Executive Director
(314) 854-5701
goodshepherdstl.org