St. Louis
Keeping Urban and Rural Infants Safe
General Prevention Grant
Prevention Model: Secondary – Home Visiting
Regions:  5, 7
Counties Served: St. Louis City, St. Louis County, Crawford, Jefferson, St. Francois, Ste. Genevieve, Washington
Nurses for Newborns (NFN) provides a safety net for at-risk families to prevent infant mortality and child abuse and neglect. Through NFN, nurse home visitors provide comprehensive assessments, referrals to resources and services, prenatal and postpartum care and parenting education, and support to promote positive infant and caregiver safety, health and developmental outcomes. NFN also provides community health worker support to enhance cultural competence and language interpretation.
St. Louis
CTF License Plate Marketing Partner
St. Louis City and St. Louis County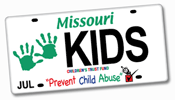 Utilizes funding from sale of the CTF specialty license plate to provide nurse home visitation services for medically fragile and other at risk children and families within Nurses For Newborns service area.
For more information:
Rich Hennicke, Grants Manager
314-544-3433
www.nfnf.org