Joplin
Child Parent Relationship Training
General Prevention Grant
Prevention Focus: Secondary – Parent Education
Child Parent Relationship Training (CPRT) is a 10-week, evidence-informed parenting course that teaches parents how to use play therapy skills to help children who experience social, emotional and behavioral problems. The main intention of CPRT is to build stronger and healthier families in order to prevent family violence and behavioral discord thereby reducing the risk of child abuse and neglect. Class topics include regaining control as a parent, effective disciplining, understanding a child's emotional needs and communicating more effectively with children. Service are includes Barton, Jasper, McDonald and Newton counties.
For more information:
Nancy Corley, Director of Child & Family Well Being
417-782-9899
theallianceofswmo.org

McCo Project CARE
Community-Based Child Abuse Prevention (CBCAP) Grant


McCo Project CARE – Collaboration AND Resources for Empowerment is a program of the McDonald County Coalition and part of the federally funded Community Based Child Abuse Prevention (CBCAP) program.  The program is designed to strengthen families with young children by providing coordinated wrap-around family-centered services and support that promotes the safety and well-being of children and reduces parent stress. A community network coordinator works with the larger provider community network in building capacity, organizing and delivering services to families in an integrated, strength-based and comprehensive way. Each eligible family works with a lead agency and the overall provider network to develop and implement a family road map for achieving their stated goal(s). The comprehensive system of care includes family assessment of resources and needs, linkage to a medical home and necessary wrap-around (flexible) services. This project serves families in McDonald County Missouri including the municipalities of Anderson, Noel and Pineville.
For more information:
Lacey Matney, McCo Project CARE Coordinator
417-475-7881
CTF License Plate Marketing Partner
Newton, Jasper, McDonald and Dade counties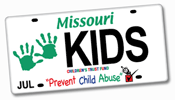 The Alliance of Southwest Missouri utilizes funds from sale of the CTF prevent child abuse license plate to support  Child-Parent Relationship Training, a research based 10-week parenting course.  Additional funds are used to support Stewards of Children training which addresses child sexual abuse prevention.
For more information:
Jen Black, Executive Director
417-782-9899
theallianceofswmo.org