St. Louis
Safe Sleep Training for Professionals
Training Grant
Region(s): 8
Counties Served: Statewide
Infant Loss Resources will provide training and technical assistance to all birthing hospitals in Missouri, so that each can become Safe Sleep certified through the National Cribs for Kids program (https://cribsforkids.org/safe- sleep-hospital-certification/). Certification criteria includes the development of a Safe Sleep policy, training for staff and education for parents.
CTF License Plate Marketing Partner
St. Louis City and St. Louis County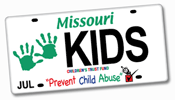 Utilizes funds from the Children's Trust Fund prevent child abuse license plate to provide safe cribs and crib sheets benefiting low income or at-risk families with infants in the greater St. Louis (Missouri) metro area including Franklin and St. Charles County.  The program identifies eligible families through referrals from partnering agencies including Catholic Charities, St. Louis County Health Department, Family Care Health Centers, Grace Hill Neighborhood Health Center, etc. A partnership has also been forged with Cardinal Glennon Children's Medical Center for assistance.  Those families approved for a crib receive a follow-up home visit from a health professional who assembles the crib and educates the family on its use, safe sleep practices and other techniques to reduce the risk of Sudden Infant Death Syndrome (SIDS).
For more information:
Lori Behrens, Executive Director
314-241-7437 or 800-421-3511
infantlossresources.org