Capable Kids & Family®
Prevention Focus: Secondary – Parent Education and Support

Jefferson City
The Capable Kids and Family program model is designed to be effective at reducing abuse and neglect by decreasing risk factors and increasing protective factors in families who have children with a developmental delay or disability. Families are provided specific services that reduce parental stress and isolation as well as improve a child's development, help parents build competence and help to create supportive social networks. Services provided include home visits, parenting education and training, and mutual/social supports.  The Special Learning Center serves families in Callaway, Cole, Miller, Moniteau and Osage counties.
For more information:
Pam Mayfield
573-634-3070
speciallearningcenter.com
CTF License Plate Marketing Partner
Cole county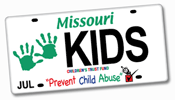 Utilizes funding from the sale of the CTF specialty license plate in Cole County to support monthly parent activities and short term evening and weekend respite care for parents who have children with special needs.
For more information:
Heather Renkemeyer, Fund Development Director
573-634-3070
speciallearingcenter.com