St. Joseph
Every Child Matters
General Prevention Grant
Prevention Focus: Primary – Safe Crib Program, Public Awareness Campaign

As part of the St. Joseph Community Coalition for Child Abuse Prevention, the Every Child Matter's Program targets child safety issues through public awareness campaigns.  The safe sleep project promotes safe sleep practices through distribution of safe cribs and bedding to needy families.  Safe sleep education is presented to pediatric and nursing staff at Heartland Hospital, parents of newborns, soon-to-be parents as well as community groups.  The Coalition also promotes awareness of Missouri Safe Haven laws, provides education on drug endangered children issues, as well as implements a Shaken Baby Syndrome/Abusive Head Trauma prevention campaign.
For more information:
Anita Jolly
816-232-0050
youth-alliance.org
St. Joseph
CTF License Plate Marketing Partner
Andrew and Buchanan counties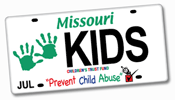 St. Joseph Youth Alliance, with the support of the community Coalition for Child Abuse Prevention, will utilize funds raised through marketing the CTF Prevent Child Abuse License Plate to supply new cribs and mattresses that meet current quality safety requirements to families most at risk of co-sleeping.  Safe sleep education will be dissemenated to each family.

For more information:
Anita Jolly, Executive Director
(816)232-0050
www.youth-alliance.org