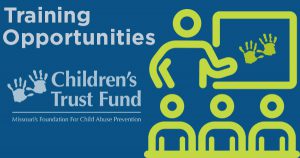 REGISTER HERE for Training!
Child well-being is a shared responsibility.  The Children's Trust Fund (CTF) 2018 Training Schedule will promote the two following trainings:
These are both very important, popular and worthwhile trainings that help strengthen families and prevent child abuse and neglect.  CTF has previously invested in train-the-trainer learning events for each, and will sponsor six (6) each of these two trainings – free of charge – during the 2018 calendar year and following years.
Be a Host — Please contact CTF if you are interested in hosting a training event either solo or in conjunction with other local agencies/groups.  Hosting involves helping CTF identify the audience (see below), secure a training venue/location and assist with promotion.  CTF will provide the trainer at no cost, promotion (flier, social media, etc.) and the training materials.
Audience
Goal:  ~30-50+ attendees at each training.
The attendees shall be a mix of a particular targeted group (parents/caregivers, business, schools, faith-based, childcare, child serving agencies, etc.), community members/professionals and CTF grantees.
For additional information please contact Paula Cunningham, CTF Public Affairs & Education Coordinator, at 573.751.2266 or Paula.Cunningham@oa.mo.gov.  Thank you for building Strong Families, Safe Kids!
---
Strong Parents, Stable Children Training:  Building Protective Factors to Strengthen Families
Participants will learn about the Center for the Study of Social Policy's (CSSP) Strengthening Families framework to increase family strengths, enhance child development and reduce child abuse and neglect.  An overview of the five Strengthening Families Protective Factors will help to identify and affirm certain family behaviors that promote optimal family functioning, even in the face of adversity.  This workshop is geared toward all professional helpers who interact with families, but is applicable to parents and caregivers.  Participants will leave empowered to highlight protective factors, encourage healthy family interaction and authentically affirm and empathize with clients, family members and others.
Darkness to Light Stewards of Children Training: Preventing Child Sexual Abuse
Stewards of Children is a prevention training program that teaches adults how to prevent, recognize and react responsibly to child sexual abuse. The program is designed for organizations that serve youth and for individuals concerned about the safety of children.  It is the only nationally distributed, evidence-based program proven to increase knowledge, improve attitudes and change child protective behaviors.  Appropriate audience includes youth serving organizations, parents, educators, childcare providers, faith centers, community members, etc.
Please join us for a FREE training event!
Thank you!

---
Scheduled Training Events