Download: Not Even for a Minute Rack Card (PDF)
Download: Not Even for a Minute Poster (PDF)
Download: Not Even for a Minute Rack Card (PDF)(Spanish)
Download: Not Even for a Minute Poster (PDF)(Spanish) 
AUDIO: Radio :30 (wma)
AUDIO: Radio :30 (wma)
VIDEO: TV PSA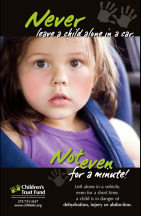 The Children's Trust Fund's "Not Even For A Minute" Campaign encourages parents and caregivers to NEVER leave children unattended in or around automobiles. Left alone in a vehicle for a short time, a child is in danger of dehydration, overheating, hyperthermia, injury, abduction and even death.
This is a car accident that can be prevented!
Temperatures in cars soar quickly. Even with a window cracked, the temperature inside a car can reach very high and dangerous temperatures within minutes. In these extreme conditions, children can die or suffer a permanent disability in a matter of minutes.
NEVER leave children unattended in or around an automobile, not even with the windows down. This applies to pets as well.
Always put your keys in a safe and secure place.
Keep vehicles lockes at all times, even at home, and remind your friends and neighbors to do the same. Unlocked cars pose a risk to children who are naturally curious and often fearless.
Teach your children the dangers of a car and let them know it is not a toy or playground.
Make your child as visible as possible. Place rear-facing car seats in the middle of the back seat.
Establish a routine of checking the back seat every time you exit the car to ensure no one is left behind. Don't overlook sleeping infants.
Place your child's diaper bag or a small toy in the front seat to serve as a constant, visible reminder of you child's presence in the car.
Place your purse, briefcse or other personal item in the back wth the child to give you an additional reason to check the back seat.
Ask your childcare provider to call you if your child does not show up for childcare as scheduled.
Try to plan ahead when you have errands. Run errands when your spouse, trusted neighbor or friend can watch your child.
Remember to use drive-through convenience provide by banks, dry cleaners, phamacies, restaurants and other businesses.
Use your debit or credit card at the gas pump.
When a child is missing, check vehicles and trunks immediately.
If you see an unnattended child in a car, call 911 immediately.
 For additional information, visit:  KIDS & CARS and Safe Kids USA
Preventing Child Deaths in Missouri-The Missouri Child Fatality Review Program Annual Report for 2010 *See page 36 regarding Keeping Children Safe In & Around Motor Vehicles.