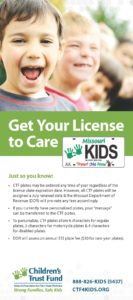 As part of its mission, the Children's Trust Fund (CTF) engages in public education campaigns to heighten the awareness and importance of child abuse and neglect prevention. CTF provides awareness of various prevention messages through available materials and a comprehensive public education plan.  CTF contracts with Learfield Communications, Inc. and Firehouse Design to develop an annual strategic plan for its advertising/media and public relations/social media campaigns.  The related activity plans include a media mix of print, rack cards, posters, electronic fliers, radio ads, cable TV ads, videos, website, literature design, blogs, news releases, podcasts, transit, Facebook, Twitter and YouTube.
CTF's donor campaigns promote general awareness of CTF, the sale of its specialty license plate and the tax check-off program.  The prevention campaigns focus on the importance of prevention, Shaken Baby Syndrome (SBS) prevention, safe sleep environments, positive parenting, emotional child abuse and neglect prevention, the dangers of leaving children unattended in or around vehicles, realistic expectations of children and dealing with stress.  CTF continues to look for public education opportunities that work in conjunction with statewide prevention programs to promote child resiliency and reduce risk of child abuse and neglect.
At no charge to Missouri residents and organizations, CTF offers rack cards, posters and DVDs to its partners, state departments, hospitals and other child serving agencies throughout Missouri for training purposes and as general information to share with parents and caregivers.
Go to online Literature Order Form.