As part of its mission, the Children's Trust Fund (CTF) engages in public education campaigns to heighten the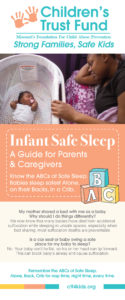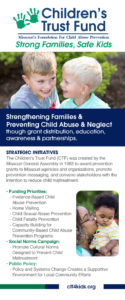 awareness and importance of child abuse and neglect prevention.
You are invited to follow us on Facebook and Twitter:
---
CTF's prevention campaigns focus on the importance of prevention, infant safe sleep, Abusive Head Trauma (ATH) prevention, strengthening families protective factors, home visiting, child sexual abuse prevention,  positive parenting, emotional child abuse and neglect prevention, realistic expectations of children and dealing with stress.
CTF's donor campaigns promote general awareness of CTF, the sale of its specialty license plate and the tax check-off program.
At no charge to Missouri residents and organizations, CTF offers rack cards, posters and DVDs to its partners, state departments, hospitals and other child serving agencies throughout Missouri for training purposes and as general information to share with parents and caregivers.  Learn more from the online Literature Order Form.
---
Prevention Campaigns

Safe Sleep Missouri
Focuses on the promotion of safe sleep education, resources and strategies to ensure all Missouri's infants sleep safely.  Babies sleep safest Alone, on their Backs, and in a Crib for nighttime, nap time and every time.
Prevent Abusive Head Trauma
Focuses on the dangers and long-term effects associated with shaking a baby and the importance of controlling emotions and having a plan during stressful times created by inconsolable crying.
Strengthening Families Protective Factors
Protective Factors are strengths within families & communities that serve to protect children & promote their healthy development and well-being, especially during time of stress.  Building these strengths at every opportunity is a proven way to strengthen families & prevent child abuse and neglect.
Home Visiting
Home Visiting is a prevention strategy that connects trained health, social services and child development professionals with new and expected parents to provide education on parenting and child development, build social support and facilitate connections to community services.
Child Sexual Abuse Prevention
How can we prevent child sexual abuse? Learn the facts, create open communication and ensure youth-serving organization put your children's safety first.
Who Do You Trust with Your Child?
Choosing a safe caregiver is one of the most important decisions for a parent.  This tri-fold provides tips and signs to look out for in choosing a safe caregiver for children.
Emotional Abuse & Neglect (Parent with Patience)
Promotes realistic expectations from a child and the awareness and prevention of emotional abuse and neglect that can seriously injure a child's emotional development causing a negative effect on a child's personality, confidence and ability to form relationships.
Something We Agree On
The "Something We Agree On" campaign focuses on promoting community awareness as it relates to the prevention of child sexual abuse.  We can all agree that there is no tolerance for child sexual abuse and this campaign works to educate parents and caretakers on strategies to assist with the prevention of child sexual abuse through the use of educational resources and materials.  
Donor Campaigns
CTF General
CTF Specialty License Plate
Specialty License Plate Graphics (for use by License Plate Partners)
Tax Check-off Program