As part of its mission, the Children's Trust Fund (CTF) engages in public education campaigns to heighten the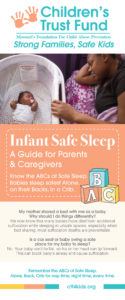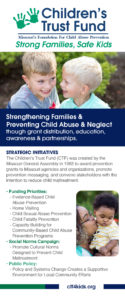 awareness and importance of child abuse and neglect prevention.  CTF provides awareness of various prevention messages through available materials and an annual public education plan.  You are invited to follow us on Facebook and Twitter:
---
CTF's donor campaigns promote general awareness of CTF, the sale of its specialty license plate and the tax check-off program.
CTF's prevention campaigns focus on the importance of prevention, strengthening families protective factors, home visiting, infant safe sleep, child sexual abuse prevention, Abusive Head Trauma (ATH) prevention, positive parenting, emotional child abuse and neglect prevention, realistic expectations of children and dealing with stress.  CTF continues to look for public education opportunities that work in conjunction with statewide prevention programs to promote child resiliency and reduce risk of child abuse and neglect.
At no charge to Missouri residents and organizations, CTF offers rack cards, posters and DVDs to its partners, state departments, hospitals and other child serving agencies throughout Missouri for training purposes and as general information to share with parents and caregivers.  Learn more from the online Literature Order Form.