Secure Credit Card Donation
There are many ways, just as there are many reasons, to donate to the Children's Trust Fund (CTF), Missouri's foundation for child abuse prevention. (Click the license plate graphic to access a secure page provided by Collector Solutions.)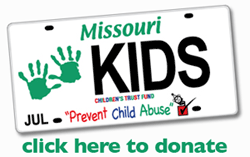 CTF does not receive any general revenue funding from the State to support its prevention activities. Funding is obtained from dedicated fees on marriage licenses and vital records, volunteer contributions designated on Missouri State Income Tax Returns, sales of the specialty CTF license plate, general donations, interest income from the Fund, and the Community Based Child Abuse Prevention (CBCAP) federal grant.
CTF is a non-profit 501c(3) organization, so your donation is tax deductible. To contribute, you may:
Mail a check or money order to the Children's Trust Fund at P.O. Box 1641, Jefferson City, MO 65102-1641;
Make a Credit Card Donation via the CTF website; or
Make a credit card donation by calling 1-888-826-KIDS (5437).
Learn other ways to donate to and help CTF.
Thank you!  Strong Families, Safe Kids