Prevention Resource Guide
The 2021/2022 Prevention Resource Guide: Strong & Thriving Families was designed to support service providers as they work with families to promote child well-being & prevent child maltreatment.
It seeks to highlight the innovative ways that communities around the country are doing purposeful prevention work to help children and families thrive. The Resource Guide features chapters such as Creating a More Supportive Society For All Families, Aligning Organizations for Family Resilience and Healing and Protective Factors Conversation Guides for Partnering With Families. 
Released in preparation for April–National Child Abuse Prevention Month, the guide provides information that anyone can use & share throughout the year including: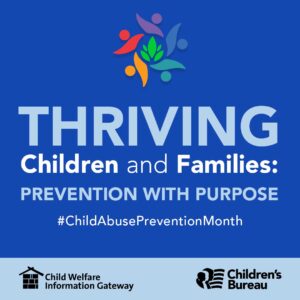 Information about the protective factors known to prevent child abuse
Tools to help build community awareness & support
Understanding child maltreatment
Partners and resources
Conversation guides