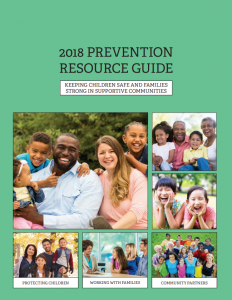 The Child Welfare Information Gateway provides numerous resources for child abuse and neglect prevention, including the 2018 Prevention Resource Guide entitled Keeping Children Safe and Families Strong in Supportive Communities. The resource guide is produced annually by the U.S. Department of Health and Human Services' Children's Bureau Office on Child Abuse and Neglect, Child Welfare Information Gateway, and FRIENDS National Resource Center to support community-based child abuse prevention professionals in their work to prevent child maltreatment and promote well-being of children and families.
Released in preparation for April – National Child Abuse Prevention Month, this guide provides information that anyone can use and share throughout the year including:
– information about the protective factors known to prevent child abuse;
– understanding child maltreatment;
– tools to help build community awareness and support;
– tip sheets for parents in English & Spanish; and
– activity calendars for Child Abuse Prevention Month.