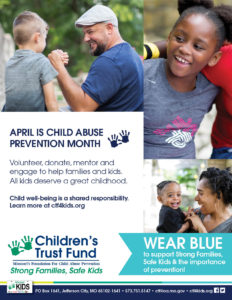 April is designated as Child Abuse & Neglect Prevention Month nationally & in Missouri. It is a month to highlight & make an extra effort to create awareness about the importance of strengthening families & preventing child abuse & neglect. Please check out the following links & use the CTF related fliers & logos at your convenience to help spread the word in your community about prevention.
National Go Blue Day is Friday, April 3, 2020 — But let's celebrate Go Blue Day every Friday in April! Wear blue on every Friday in April in support of the importance of child abuse & neglect prevention!
To celebrate and help families during these challenging time please tune in to:
Dr. Bob Sege's Blog Series > Love in the Time of Coronavirus — Practical tips for parents based on the Health Outcomes of Positive Experiences (HOPE) initiative.
---
DUE TO COVID-19, GO BLUE WELLNESS WALK 2020 PLANS ARE TENTATIVE AND SUBJECT TO CHANGE. ADDITIONAL INFORMATION FORTHCOMING. THANK YOU!
Go Blue Wellness Walk is on Friday, April 24, 2020 — Please see the related flier on this page (coming soon). Thank you!
Take care of yourself, so that you can take care of others…BETTER!
Let's get outside! Please join us between 11:00a – 1:00p Friday, April 24, 2020 for a 1.3 mile Go Blue Wellness Walk from the Harry S. Truman (HST)Building through downtown Jefferson City.
>At noon, please join us for a group photo at the HST 4th Floor entrance.
>Don't forget to wear BLUE in support of Strong Families, Safe Kids!
>FREE water, snacks & give-aways while supplies last!
>Alternate indoor route >>> 11 laps around the 5th floor of the Harry S. Truman Building
Go Blue Day Wellness Walk Flier — GET REGISTERED
*(live link in flier >> https://mo-ctf.azurewebsites.net/Forms/GoBlueWellness.aspx)
Photos from Go Blue Day Wellness Walk 2018: https://photos.app.goo.gl/czKe7B1qbFoBWtSTA
Photos from Go Blue Day Wellness Walk 2019: https://photos.app.goo.gl/ZXAHnVYd2AagKNRm9
Thank you!
---
Additional Resources:
Dr. Bob Sege's Blog Series > Love in the Time of Coronavirus — Practical tips for parents based on the Health Outcomes of Positive Experiences (HOPE) initiative.
Child Welfare Information Gateway CAPMonth
Child Welfare Information Gateway Prevention Resource Guide — Practice prevention throughout the year!
Strengthening Families
Missouri Kids First Prevent Child Abuse Missouri
Suspect child abuse?  Call 800-392-3738