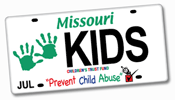 The Children's Trust Fund (CTF) specialty license plate program provides Missourians the opportunity to show their support for strengthening families and child abuse prevention by displaying the official CTF license plate — the ones with the green handprints — on their vehicle.  These resources are intended to help CTF's grantees and License Plate Partners (LPP) in their efforts related to promoting the plate within traditional media and social media efforts.
Please note, some of the files are large and may take a while to download.
License Plate Order Forms – Flier/Rack Card
Logos/Graphics
License Plate Radio Advertisement
Suggested language for a partner to use as a credit/caption:
A donation to the Children's Trust Fund (CTF) to purchase a CTF specialty license plate benefits [insert License Plate Partner (LPP) name].