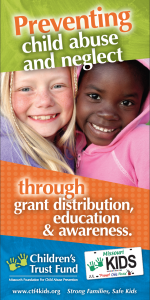 The Children's Trust Fund (CTF) Board of Directors recently awarded more than $1.5 million in prevention funds in Fiscal Year 2016 to over 100 child-serving organizations throughout Missouri.  The grants will provide programs and services that strengthen families by building protective factors and reducing the risk of child abuse and neglect.  Of those awarded, 15 grants are new totaling $401,036, and 89 are renewal grants totaling $1,154,197.
"CTF is excited to be funding so many worthwhile initiatives and quality prevention programs throughout the state that will reach thousands of Missouri's children and families," said CTF Executive Director Kirk Schreiber.  "In particular, we are thrilled to be supporting new grants that will provide training in the areas of protective factors, sexual abuse prevention, and the Healthy Families America home visitation model. CTF will also continue its partnership with FACT and OSEDA  for Missouri Kids Count, and with the Department of Health and Senior Services targeting safe sleep practices in counties by providing safe cribs and home visits to families in need."
Funds awarded support evidence-based and promising programs including parent education and support, safe crib/safe sleep, crisis nursery, fatherhood support, mentoring, home visitation, sexual abuse prevention, community collaboration around supporting children and families, and training.  Generally, grants are awarded for a five year period with the grantee required to fund an increasing proportion of the program cost during that time.
CTF, Missouri's foundation for child abuse and neglect prevention, strengthens families and prevents child abuse through grant distribution, education, awareness and partnerships.  Established in 1983, CTF has awarded over $55 million in non-general revenue to date to support community-based programs statewide.  CTF receives funding through dedicated fees on marriage licenses and vital records, voluntary contributions designated on the Missouri State Income Tax Return, sales of the CTF prevent child abuse license plate, general donations, interest income for the Fund and a federal grant administered through the Administration for Children and Families.
Click on alphabetical list or regional list to view current grantees.