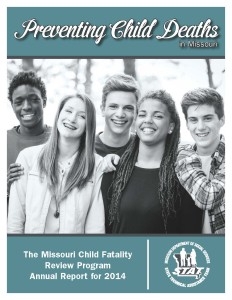 The Missouri Child Fatality Review Program's (CFRP) 2014 Annual Report – Preventing Child Deaths in Missouri is now available. The report provides a statistical breakdown of child injuries and deaths both accidental and non-accidental by county and statewide.  It also contains helpful recommendations for keeping children safe and reducing the chances for injuries and/or fatalities from occurring.  Issued by the State Technical Assistance Team (STAT), Missouri Department of Social Services (DSS), the report provides information about Missouri's Child Fatality Review Program and reflects the work of many dedicated professionals throughout the state who strive to improve and protect the lives of Missouri's youngest citizens.  In 2014, 951 child fatalities were reported to the Missouri Child Fatality Review Program – a decrease of 28 deaths from 2013. This number includes children that died in Missouri, regardless of their state of residence or state in which the illness, injury or event occurred. (reference p. 6 of report).    Since 2002, the annual total of overall child deaths in Missouri has been reduced.
CFRP 2014 Annual Report
CFRP 2014 Annual Report Executive Summary
CFRP previous reports can be accessed here.