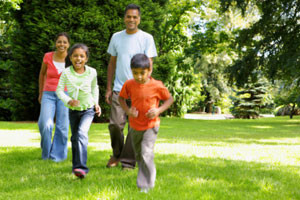 The Healthy Steps for Families program is a collaborative effort between Burrell Behavioral Heath and the Jordan Valley Community Health Center and is based in Greene County. CTF helps fund services to at-risk pregnant women or parents with children ages 0-3. Healthy Steps for Families medical staff and Healthy Steps specialists use real world scenarios to provide families with supportive environments to address a broad array of early childhood physical and developmental concerns. The program also helps parents understand physician's findings and instructions, and offers referrals and resources pertinent to individual family needs.
We spoke with Jeanie Beck, Clinical Social Worker at Burrell Behavioral Health about Healthy Steps for Families.
AUDIO: How CTF funding benefits Healthy Steps for Families
Healthy Steps for Families addresses the physical, emotional, intellectual growth and development of children ages 0-3.
AUDIO: Jeanie gives advice to parents wanting to be the best parent they can be
Parent participants of Healthy Steps for Families often become referral sources. Families have been added to the program due to other parents who told them about it.
AUDIO: Jeanie reflects on the successes of the program
Jeanie recommends other providers looking to establish a program like Healthy Steps for Families take part in Strong Parents, Stable Children training.
AUDIO: Jeanie shares a personal experience working with Healthy Steps for Families

For more information, contact Denise Mills, Director of Corporate Services at 417-269-7254 or visit burrellcenter.com.