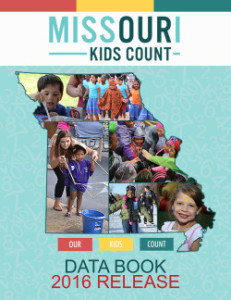 The Family & Community Trust (FACT), recently released the 2016 Missouri KIDS COUNT Data Book documenting the status of  children in all 114 Missouri counties and the City of St. Louis.  The annual report is a collaborative project of FACT, the Annie E. Casey Foundation, Office of Social and Economic Data Analysis (OSEDA) -University of Missouri, the Children's Trust Fund (CTF), and 20 Community Partnerships from across the state.  The book was released during an April 5 press conference at the University of Missouri.
The report provides an annual, state and county-level analysis of
child well-being measuring indicators of Economic Security, Child Protection and Safety, Education and Health.  Data for the report is compiled from more than 80 federal, state, county and municipal sources by OSEDA.
To examine trends over time, Missouri KIDS COUNT compared the most current data (2014) to 2010 baseline data, which revealed that seven outcome measures improved in Missouri during this time period including:  births to teens, unintentional injury, annual high school dropouts, births to mothers without a high school diploma, infant mortality, child deaths and low birth-weight infants.  Outcomes that worsened during the same time period include children under 18 in poverty, child abuse/neglect and family assessments, and children entering/re-entering state custody.
Primary funding for the project is provided by Annie E. Casey Foundation and the Children's Trust Fund.
2016 Missouri KIDS COUNT Data Book (pdf)