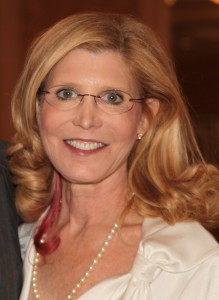 Children's Trust Fund (CTF) Board member Nanci A. Bobrow, Ph.D., St. Louis, was honored by Nurses For Newborns (NFN) on April 17, 2016 at the 18th Annual A Night for Newborns Dinner Auction presented by World Wide Technology, Inc.  Dr. Bobrow is the 3rd recipient of the Champion for Families Award, a special award honoring those who dedicate their lives to helping children.
Dr. Bobrow, a licensed psychologist, served on the CTF Board of Directors from 2000 – 2008 and was appointed in 2012 by Governor Nixon where she continues in this position.  She was CTF Board Chair from 2005 – 2007.  She has been a member of the NFN Board of Directors since 2007 and served as Board President 2010 – 2012.  Dr. Bobrow is also active with the St. Louis Crisis Nursery, Vision for Children at Risk and the National Council of Jewish Women (NCJW) St. Louis Section and previously served on the State Child Abuse and Neglect Review Board.  She has several publications, honors and awards including the 1996 Woman of Achievement Award.
Nurses for Newborns provides a safety net for families most at-risk in order to prevent infant mortality, child abuse and neglect by providing in-home nursing visits which promote healthcare, education, and positive parenting skills in Missouri and Tennessee.