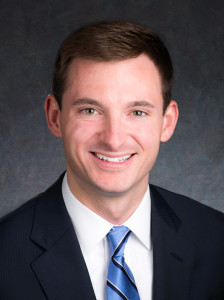 The Children's Trust Fund welcomes Derek J. Wiseman, St. Louis, to the CTF Board of Directors.  Wiseman was appointed by Governor Jay Nixon with the appointment confirmed by the Senate on April 14.
Wiseman is an attorney with Husch Blackwell law firm in St. Louis and a graduate of Washington University School of Law. He is an assistant coach of the law school's national moot court team, and had been a member of the team while in law school. Wiseman was president of the student body at the University of Central Missouri, where he earned his undergraduate degree. He and his wife, Eve, are the proud parents of two children.  Wiseman replaces Susan Block, St. Louis, who has served on the Board since 2009.  The Governor has appointed him for a term ending Sept. 15, 2018.
The CTF Board of Directors is comprised of twenty-one volunteer members, seventeen of whom are public members appointed by the Governor, with twelve of those members requiring confirmation by the Senate, two from the House of Representatives appointed by the Speaker of the House, and two from the Missouri Senate appointed by the President Pro Tem.  Public members may serve up to two consecutive 3-year terms.