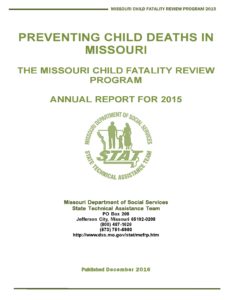 The Missouri Child Fatality Review Program's (CFRP) 2015 Annual Report – Preventing Child Deaths in Missouri is now available. The report provides a statistical breakdown of child injuries and deaths both accidental and non-accidental by county and statewide.  It also contains information about keeping children safe and reducing the chances for injuries and/or fatalities from occurring.  Issued by the State Technical Assistance Team (STAT), Missouri Department of Social Services (DSS), the report provides information about Missouri's Child Fatality Review Program and reflects the work of many dedicated professionals throughout the state who strive to improve and protect the lives of Missouri's youngest citizens.
The report indicates that in calendar year 2015, 966 child deaths were reported to STAT.
Sixty-four child deaths involved fatal child abuse and neglect by inflicted physical injury and/or grossly negligent treatment by a parent or caretaker, regardless of motive or intent. (Reference report p. 40)
In 2015, 27 Missouri children died from inflicted injury at the hands of a parent or caretaker. (Reference report p. 42)
The remaining 37 child neglect deaths were initially listed as unintentional, natural, non-caretaker homicide or undetermined manner of death, but the CFRP panels believed that gross negligence by a parent or caretaker contributed to child's death. (Reference report p. 42)
Twenty-eight (44%) of the total 64 child abuse/neglect deaths were children under one year of age, 23 (36%) children were ages one to four. (Reference report p. 40)
The three leading causes of child abuse/neglect fatalities were from suffocation/strangulation (19), abusive head trauma (9) and vehicular crashes due to impairment and/or lack of appropriate restraint (9). (Reference report p. 40)
Previous CFRP annual reports can be accessed here.