April is Child Abuse & Neglect Prevention Month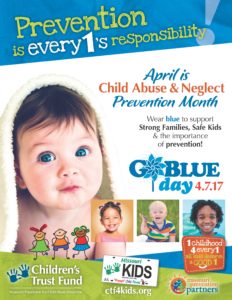 Building Community, Building Hope is this year's theme for April – Child Abuse/Neglect Prevention Month. Please check out the many prevention resources available including the updated community resource guide to use this month as well as throughout the year. Remember to wear blue on Go Blue Day, Friday, April 7 to show your support for Missouri's kids and families.
---
Go Blue Day Walk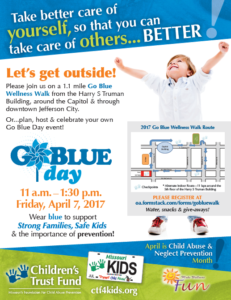 Friday, April 7 is Go Blue Day! Please join CTF for its 2nd annual 1.1 mile Go Blue Wellness Walk from the Harry S Truman Building, around the Capitol & through downtown Jefferson City. Please register here and come join us between 11 a.m. and 1:30 p.m. for a fun-filled event. Remember to wear your blue in support of Missouri's kids and keeping them safe.
---
You Are Invited – 2017 Pinwheels for Prevention
Missouri KidsFirst will hold their 8th Annual Pinwheels for Prevention Community Pinwheel Garden at the Missouri State Capitol on Thursday, April 13, 2017 at 12 p.m.  At the ceremony, Missouri KidsFirst will present the Standing with Children Award honoring those who have stood up to protect Missouri's children. The event is free. Download & share the 2017 Pinwheels for Prevention flier and please visit Missouri KidsFirst website for more information.
---
Please plan to attend the 35th annual Child Advocacy Day, Thursday April 6, 2017, 8:30 a.m. – 2 p.m., Missouri State Capitol. Missouri's annual Child Advocacy Day is an opportunity for parents, child advocates and communities to speak up and ask lawmakers to make the health, safety, and education of Missouri's children the top priority for the state. The event is free but please register here and check out the agenda here.