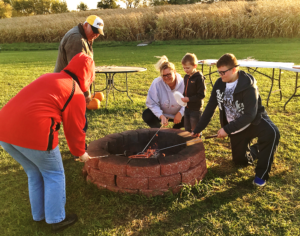 Project THRIVE is a family-centered and prevention focused program designed to strengthen families with young children by providing coordinated wrap-around family-centered services and support that promotes the safety and well-being of children. The program delivers health, support and social services to families in order to improve overall outcomes, reduce costs, promote family empowerment, teach child and youth development, and ultimately reduce the risks or incidence of child abuse and neglect.  Project THRIVE offers Parent-Child Interaction Therapy (PCIT) among other parent engagements. We spoke with Angie Hunolt, Project THRIVE Coordinator, about the program:
AUDIO: Hunolt explains how the coordinated services delivery model has enhanced the program.
AUDIO: Hunolt describes the network of providers.
AUDIO: Hunolt reveals the ultimate goals of the program.
AUDIO: Hunolt shares community and family responses regarding Project THRIVE. 
Hunolt said funders like the Children's Trust Fund that share their vision to strengthen and support families are vital to the program.