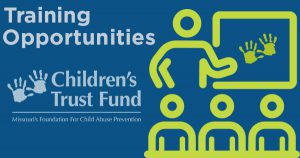 REGISTER HERE for Training!
Child well-being is a shared responsibility.  The Children's Trust Fund (CTF) 2018 Training Schedule will promote the two following trainings:
These are both very important, popular and worthwhile trainings that help strengthen families and prevent child abuse and neglect.  CTF has previously invested in train-the-trainer learning events for each, and will sponsor six (6) each of these two trainings – free of charge – during the 2018 calendar year and following years.
Click here for more details and to register for a training near you!