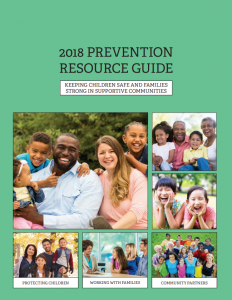 The 2018 Prevention Resource Guide: Keeping Children Safe & Families Strong In Supportive Communities was designed to support service providers as they work with families to promote child well-being & prevent child maltreatment.
It focuses on protective factors that build on family strengths to foster healthy child & youth development.
The Resource Guide can be used along with the Protective Factors in Practice Scenarios & the Activity Calendars to implement prevention strategies in your community.
Released in preparation for April – National Child Abuse Prevention Month, the guide provides information that anyone can use & share throughout the year including:
– information about the protective factors known to prevent child abuse
– tools to help build community awareness & support
– understanding child maltreatment
– tip sheets for parents in English & Spanish