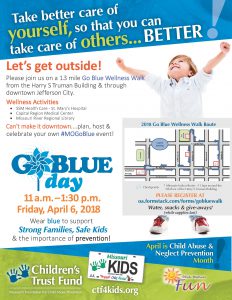 Friday, April 6 is Go Blue Day! Please join CTF for its annual 1.3 mile Go Blue Wellness Walk from the Harry S Truman Building & through downtown Jefferson City.
Wellness Activities
— SSM Health Care – St. Mary's Hospital
— Capital Region Medical Center
— Missouri River Regional Library
Please register here for a nice walk outside between 11a-1:30p. Remember to wear blue in support of prevention & #StrongFamiliesSafeKids.
If you can't make this walk, please plan, host, celebrate & share your own #MOGoBlue event!