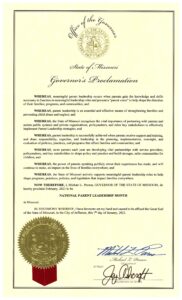 Governor Parson has signed a proclamation designating February as National Parent Leadership MonthSM (NPLM) in Missouri.
NPLM was initiated by Parents Anonymous® as an opportunity to show appreciation for parents who work to improve the lives of their families, neighbors and communities by lending their voice to local, state and national initiatives and partnering with the staff of programs that they participate in. Parents are a vital resource in family strengthening and child abuse prevention efforts, and acknowledging their wisdom and contributions is important not only in February but all year.
Information on promoting National Parent Leadership Month and ideas/tools for recognizing parent leaders can be found at https://parentsanonymous.org/programs/national-parent-leadership-month/ or https://friendsnrc.org/parent-leadership/national-parent-leadership-month-resources/.
In Missouri, a Parent Advisory Council (PAC) has been implemented with parent leaders from across the state.  For more information on the MO PAC, go to https://earlyconnections.mo.gov/get-connected/parent-advisory-council.