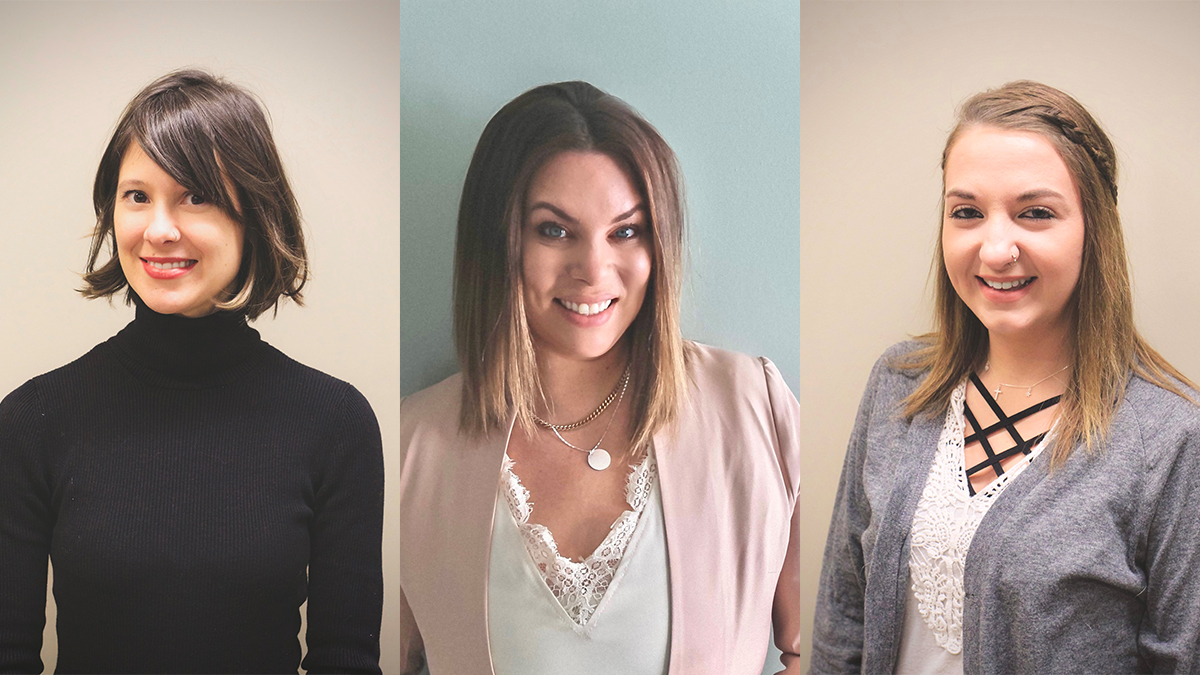 An update from Emily
Over the past year, CTF has added some amazing people to our full-time staff. Today, I'd like to take the opportunity to tell you more about the three newest faces on the CTF team, Jeni Sommerfeld, Tara Goins, and Nicole Dunmire.
Jeni Sommerfeld - Promoted to Program Director
Jeni (pictured left) joined CTF in Spring of 2021 as Program Officer and was recently promoted to Program Director! She brings a wealth of experience in funding administration, grantee support, and statewide collaboration related to child welfare from her time at Missouri KidsFirst – the state coalition of child advocacy centers and Missouri chapter of Prevent Child Abuse America.
The hypothesis-driven approach that she learned during her educational background in biology aligns well with CTF's commitment to evidence-based interventions to prevent child abuse and neglect, but Jeni is a social worker at heart that cares deeply about children and families.
You can reach Jeni at jennifer.sommerfeld@oa.mo.gov
Tara Goins - Hired as Program Coordinator
Tara (pictured center) started with Children's Division in 2008 as a child abuse and neglect (CA/N) investigator in the 13th circuit. From 2008-2014, she worked in a variety of capacities with intact families, licensing/resource families, and alternative/foster care. In 2014, Tara was promoted to supervisor over the (CA/N) investigation unit, family centered services and eventually supervised alternative care and licensing/resources within CD.
Tara has a Masters in Social Work with focused experience older youth in alternative care. She most recently served at the Children's Division Central Office where she took on statewide prevention efforts and initiatives, including home visiting, child/human trafficking, safe sleep, newborn crisis assessments, and crisis care. Tara is ecstatic to have the opportunity to take her knowledge of the child welfare system and implement practical strategies and initiatives to assist CTF with the prevention of child maltreatment at a state level.
You can reach Tara at tara.goins@oa.mo.gov
Nicole Dunmire - Hired as Administrative Assistant
Nicole (pictured right) is a SW Missouri native who moved to Jefferson City in 2013. She is 26, married for two years to her husband, Geoffrey, and together they have two dogs, Sylvia and Zenki. Nicole has previously worked in retail, daycare, and office settings before joining CTF. She was especially inspired by her daycare job, where she worked with all age groups, including infants through Pre-K, and assisted the Director with administrative duties. She loves to do any kind of work that involves children and animals, but her love for children is what led her to apply with CTF.
Nicole's goal is to provide helpful resources to children and their families so that they may have happy and healthy lives – to become whatever they choose to be in their future.
You can reach Nicole at nicole.dunmire@oa.mo.gov
As always, I'm here to answer any questions you have and get you connected with the right person at CTF to support you in your work. I'm really looking forward to seeing what we can accomplish for Missouri's kids and families in 2022. –EVS