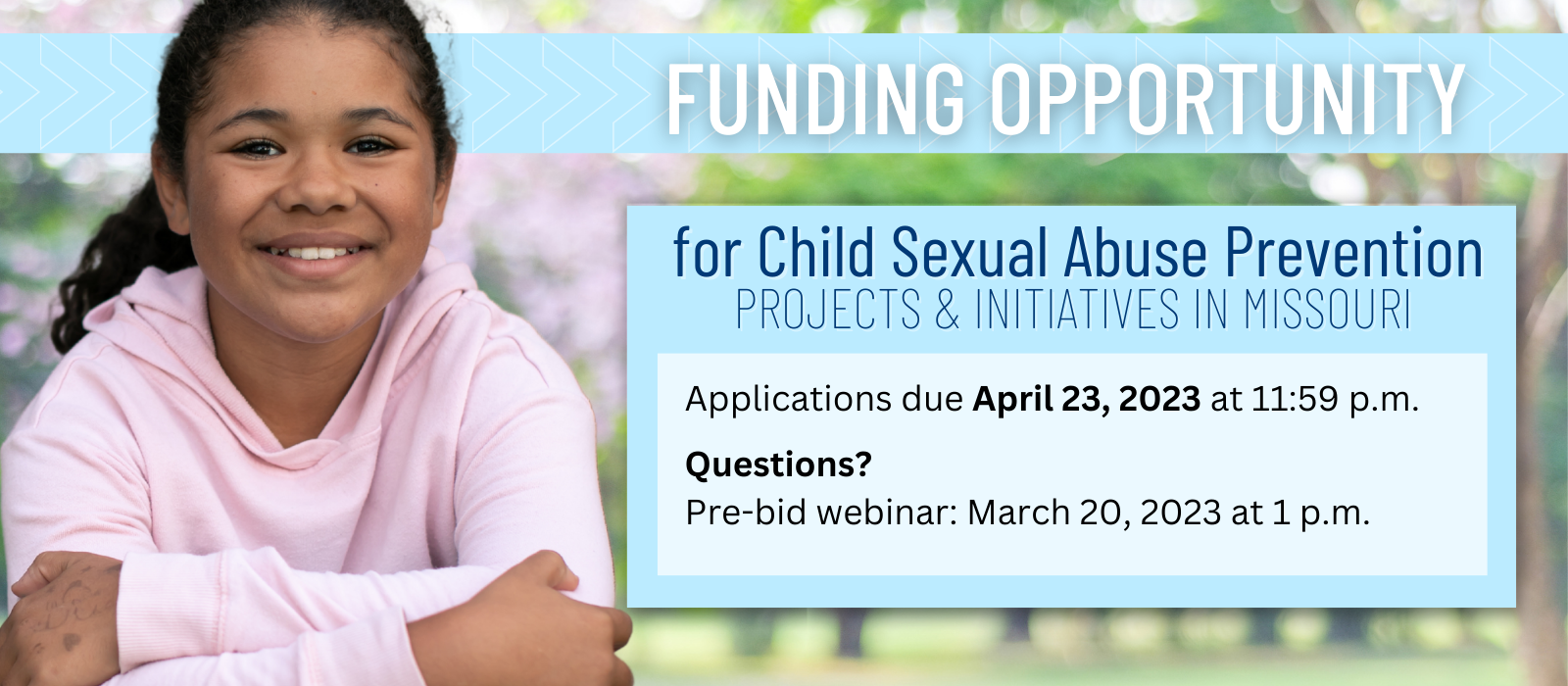 Up to $500k in available new funds for Child Sexual Abuse Prevention Projects in Missouri.
The Children's Trust Fund is pleased to announce the availability of new funding for projects designed to prevent child sexual abuse in Missouri. This 4-year funding program will begin July 1, 2023 and will award up to $500,000 annually through June 30, 2027. Two types of proposals will receive consideration for funding:
New, collaborative community initiatives that emphasize primary prevention and include both victimization and perpetration prevention strategies;
Statewide/systems initiatives designed to create broad impact related to primary child sexual abuse prevention.
Child sexual abuse is a prevalent social problem with serious social, emotional, health and economic consequences. Currently, there are no proven strategies or models for prevention. Much of the effort around child sexual abuse is reactionary, as opposed to preventing the abuse in the first place.
To prevent childhood sexual abuse, CTF believes we must:
Address factors that lead to problematic sexual behavior among youth
Use both victimization and perpetration prevention strategies with an emphasis on upstream strategies to prevent first-time abuse
Direct victimization prevention efforts toward adults, particularly caregivers of young children and youth-serving organizations 
Direct perpetration prevention efforts toward children and youth
In FY21, CTF released a first round of community-based child sexual abuse prevention funding for innovative projects using community collaboration; varied, complementary strategies; and a public health framework. This new funding opportunity will similarly prioritize such funding with additional emphasis on primary perpetration prevention strategies targeted at children/youth and their caregivers, and primary victimization prevention strategies targeted at caregivers of young children and adults within youth-serving organizations. Statewide/systems initiatives will also be considered for funding, as CTF acknowledges communities are affected by the systems that exist within the broader context of the state.
To learn more about this funding opportunity, eligibility, requirements, guidance, education and more, visit our Funding Opportunities page. To apply, you can download and complete the RFP Application by April 23, 2023.
About Children's Trust Fund
Created by the Missouri General Assembly in 1983, CTF is Missouri's foundation for child abuse prevention.  CTF is a non-general revenue state agency that conducts public awareness campaigns about the importance and economic impact of preventing child abuse and neglect.  In addition, CTF distributes grants annually throughout Missouri to local community-based programs that support families and work toward the prevention of child abuse and neglect.  For additional information, please call CTF at 573-751-5147 or visit ctf4kids.org.  
Are you receiving CTF's emails? Join below!