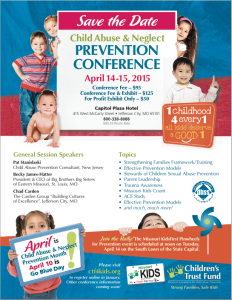 The Children's Trust Fund (CTF) hosted its biennial Child Abuse & Neglect Prevention Conference April 14-15, 2015 at the Capital Plaza Hotel in Jefferson City, Missouri. This year's theme was '1 Childhood 4 Every 1 — All Kids Deserve a Good One!'.
It's true that we all get one chance, one shot, one opportunity for a good childhood or at least should have that opportunity. It's also true that a positive childhood experience serves as the foundation for a more promising adulthood.  CTF believes that it is an adult's responsibility to help ensure that every child experiences a good childhood so that they have a better opportunity to grow into healthy, thriving and caring adults. It is our hope that this theme will resonate well beyond this conference. Several of our speakers spoke to us about their missions in helping children and families:
Dr. David Schramm, Ph.D., University of Missouri Extension
Becky James-Hatter, President/CEO, Big Brothers Big Sisters of Eastern Missouri
Pat Stanislaski, Director Partnering for Prevention, LLC, Hillsborough, NJ
Carla Snodgrass, BSW, MPA, National Director of Operation Prevent Child Abuse America (PCAM)
Plan to join us for our next conference in Spring 2017.