It's as simple as ABC.  Babies should sleep Alone, on their Backs in a Crib.
Safe Crib-Safe Sleep is one of CTF's primary public education campaigns. It provides safe sleep information to parents and encourages them to provide a safe sleeping environment for their infants.
A large majority of sudden infant deaths diagnosed as SIDS are due to unsafe sleeping arrangements. These unsafe arrangements include any sleep surface not designed for infants, sleeping with head or face covered, and sharing a sleep surface.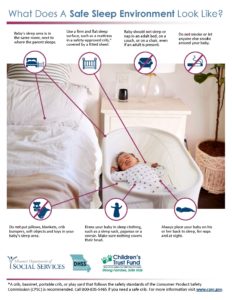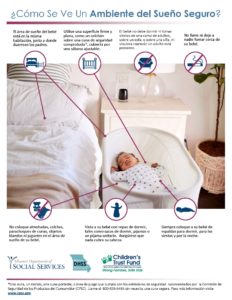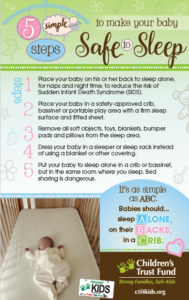 The American Academy of Pediatrics (AAP), the Consumer Product Safety Commission (CPSC) and the National Institute of Child Health and Human Development support the following recommendations on safe bedding practices when putting infants under 12 months down to sleep.
Five Simple Steps to Make Your Baby's Crib Safe
Place your baby on his/her back to sleep alone, for naps & night time, to reduce the risk of Sudden Infant Death Syndrome.

Share this important information with everyone who cares for your baby.

Place your baby in a safety-approved crib, bassinet or portable play area with a firm sleep surface & fitted sheet.

Do NOT place your baby to sleep on an adult bed or other soft mattress, waterbed, sofa, chair beanbag, car seat, pillow, cushion, other soft surface or in a car seat.

Remove all soft objects, toys, blankets, bumper pads & pillows from the sleep area.
Dress your baby in a sleeper or sleep sack instead of using a blanket or other covering.

Do not let your baby overheat during sleep.

Put your baby to sleep alone in a crib or bassinet, but in the same room where you sleep.  Bed sharing is dangerous.

Your baby may be brought into bed for nursing, but should be returned to his or her own sleep area when finished.
The Safe Sleep Coalition was initiated by the Missouri Department of Social Services (DSS), Children's Division (CD) in winter 2016 to exclusively focus on safe sleep for infants. The primary goal of the coalition is to substantially reduce and eliminate injuries and deaths as a result of unsafe sleep environments and practices in Missouri through increased education, awareness, practice and training. The coalition members meet regularly to share expertise and work together to develop, support and distribute consistent, safe sleep messaging statewide. The coalition promotes September as Baby Safety Month by implementing a social media calendar and has plans to create safe sleep online training for professionals and caregivers.
Membership
Children's Mercy Kansas City
Children's Trust Fund (CTF)
Missouri Chapter of the American Academy of Pediatrics (MO-AAP)
Missouri Department of Health & Senior Services (DHSS)
Missouri Department of Social Services (DSS), Children's Division (CD)
Missouri Department of Social Services (DSS), State Technical Assistance Team (STAT)
Mother & Child Health Coalition
Infant Loss Resources, Inc.
Resources
Safe to Sleep Electronic Resources
Safe to Sleep Videos
Order Free Safe to Sleep Literature
Missouri Department of Health & Senior Services TEL-LINK – Call 800-835-5465 if in need of a safe crib.
Missouri Department of Health & Senior Services (DHSS) Planning a Safe Place for your Baby to Sleep
Missouri Department of Health & Senior Services (DHSS) Safe Cribs Program
Missouri Department of Social Services (DSS) Keeping Kids Safe https://dss.mo.gov/cd/keeping-kids-safe/
Infant Loss Resources
Preventing Child Deaths in Missouri-The Missouri Child Fatality Review Program Annual Reports – State Technical Assistance Team (STAT)
Safe to Sleep https://www.nichd.nih.gov/sts/Pages/default.aspx
Safe to Sleep https://www.nichd.nih.gov/publications/pubs/Documents/Safe_Sleep_Environment_English.pdf
Baby Safety Zone https://babysafetyzone.org/hot-topics/baby-safety-month
International Association of Child Safety http://www.iafcs.org/webcomponents/articles/events.asp?id=28
SIDS and Other Sleep-Related Infant Deaths https://pediatrics.aappublications.org/content/138/5/e20162938
Safe Sleep Guidance https://www.aappublications.org/news/2016/10/24/SIDS102416
Helping Babies Sleep Safely https://www.cdc.gov/reproductivehealth/features/baby-safe-sleep/index.html
Infant Safe Sleep Recommendations https://firstcandle.org/infant-safe-sleep-recommendations/