The Children's Trust Fund's "Prevent Shaken Baby Syndrome" public education campaign is designed to heighten the awareness of the dangers of shaking a baby and encourage a plan of prevention.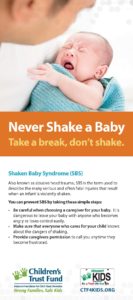 Everyone who cares for a baby needs to know about Shaken Baby Syndrome (SBS), a form of Abusive Head Trauma (AHT).
SBS is a term often use by doctors and the public to describe abusive head trauma inflicted on infants and young children.  SBS/AHT refers to the many serious and often fatal injuries that result when an infant or young child is violently shaken and/or blunt impact occurs to a child's head.  Babies are hurt because their weak neck muscles are not strong enough to support their disproportional large head. When an infant or young child is violently shaken, the brain bounces back and forth within the skull, bruising or destroying brain tissue, tearing blood vessels and often causing retinal bleeding. This can result in brain seizures, paralysis, blindness and death.
Shaking generally occurs when a frustrated caregiver becomes overwhelmed with an inconsolable crying baby. It is all right for a baby to cry if all of his o her needs have been met.
If you or someone has the urge to shake a baby — STOP! Place the baby in a safe place, walk away, take a deep breath, count to 100, listen to soft music, take a soothing shower … do anything to calm down.
Remember, babies will cry and a plan is necessary.  SBS/AHT can be prevented. Make sure that everyone who cares for your child knows about the dangers of shaking and give them permission to contact you anytime they become frustrated or angry.
CTF has available rack cards, radio and television public service announcements to support the campaign. CTF, with support from the Missouri Department of Health and Senior Services (DHSS), refreshed its Never Shake: Preventing Shaken Baby Syndrome DVD and added a Safe Sleep for your Baby component.  The free DVD, available in both English and Spanish,  includes the most current information about the dangers of shaking and abusive head trauma.  The safe sleep chapter provides information to prevent infants from being injured or dying in unsafe sleep environments.  Additionally, a bonus segment featuring an interview with St. Louis County Medical Examiner Mary Case, M.D. is included.
Hospitals throughout Missouri incorporate the prevention DVD into their newborn and childbirth programs and has approval from DHSS to satisfy State Statute 191.748 RSMo that requires every Missouri hospital and healthcare facility that provides obstetrical services to offer to view a video to new parents about the prevention of Shaken Baby Syndrome (SBS).  Many other providers have incorporated the DVD into their parent education programs across the state.
View the DVD here.  Order the DVD and related prevention materials here.
Related Information
Preventing Child Deaths in Missouri-The Missouri Child Fatality Review Program Annual Report – State Technical Assistance Team (STAT)
Preventing Abusive Head Trauma in Children – Centers for Disease Control (CDC) and Prevention