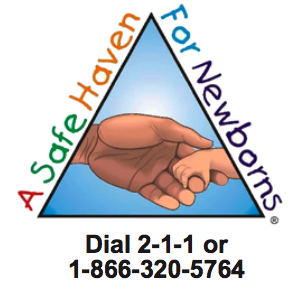 Save Havens are locations that allow mothers, or other caregivers, the ability to leave an unharmed newborn in a safe location with no questions asked, without the fear of prosecution. An editorial piece in the Kansas City Star recently highlighted the importance of providing information about Save Havens.  After conducting research at area hospitals, fire stations, ambulance and police stations, and county and city health departments in both Missouri and Kansas, child advocates found out just how much work needs to be done to help spread the word. 
Find the article here.
The Kansas City Child Abuse Roundtable Coalition is working to make sure signs are posted in designated safe-haven sites to indicate they're safe places to relinquish a newborn when staff's on hand. The group is also bringing awareness through the United Way's 2-1-1 resource hotline. The group's coordinator, Debby Howland, recently spoke to KCUR about the goal of the coalition.  Find that interview here.