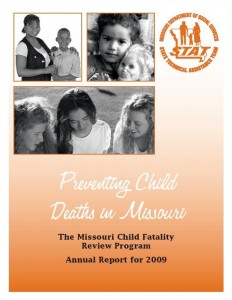 The Missouri Child Fatality Review Program's 2009 Annual Report is now available. The report provides a statistical breakdown of child injuries and deaths both accidental and non-accidental by county and statewide.  It also contains helpful recommendations for keeping children safe and reducing the chances for injuries and/or fatalities from occurring.  Issued by the State Technical Assistance Team (STAT), Missouri Department of Social Services, the report provides information about Missouri's Child Fatality Review Program and reflects the work of many dedicated professionals throughout the state who strive to improve and protect the lives of Missouri's youngest citizens. 
Missouri Department of Social Services Director Ronald Levy says, "The identification of trends, spikes, and patterns of risks in child deaths allows us to share what we learn through education, prevention and deterrence, ensurring a safer environment for all Missouri Children and Families." 
Find more information about the report and its findings here.