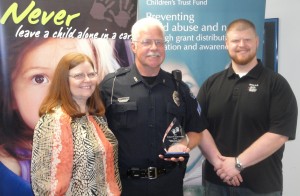 The Children's Trust Fund (CTF) is pleased to recognize Seargeant Wayne Rapier as the 2011 Richard P. Easter Award recipient. Sergeant Rapier is a thirty-six year veteran of the Rolla Police Department and has served as a Patrol Officer, Detective, Criminal Investigator, Evidence Custodian, D.A.R.E. Coordinator/Instructor and Police Explorer Advisor. He is currently the School Resource Officer for the Rolla Public School District. Sgt. Rapier received the award before his family, peers and other department members during the appreciation ceremony on Tuesday, June 7, 2011 at the Rolla Police Department.
AUDIO: Seargeant Rapier talks about his reaction to the award.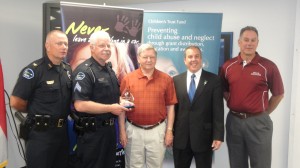 The CTF Board of Directors established this award in honor of the late Richard P. Easter, former Director of the State Technical Assistance Team (STAT), who is remembered for his commitment and leadership in promoting statewide prevention efforts to better protect Missouri's children. Since 2000, CTF has presented the award each year to a distinguished law enforcement officer in Missouri for exemplary contributions to the prevention of child abuse and neglect. Seargeant Rapier says he's seen a lot of progress in the area of prevention and protecting children during his career.
AUDIO: Seargeant Rapier expresses his appreciation for organizations that are helping kids.