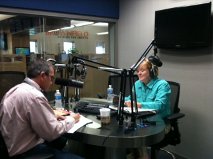 April is Child Abuse Prevention Month.  Throughout Missouri there are many activities and opportunities that support the health and well-being of children in which citizens can take part and become involved.
Debby Howland, Coordinator for the Kansas City Child Abuse Roundtable Coalition, speaks with CTF Executive Director Kirk Schreiber in this latest podcast about the work of the Roundtable and the many upcoming events in Kansas City to promote child abuse prevention.
In a related podcast, Becky Wood, Advancement Manager Special Events for Boys & Girls Town of Missouri  – Jim D. Morris Campus, Springfield, discusses the Be A Lifesaver – Prevent Child Abuse Campaign in Greene County.
For a complete list of prevention events and training opportunities in April and throughout the year, go to our upcoming events calendar.
PODCAST: Debby Howland, Kansas City Child Abuse Roundtable Coalition (10:27)
PODCAST: Becky Wood, Boys and Girls Town of Missouri (11:58)