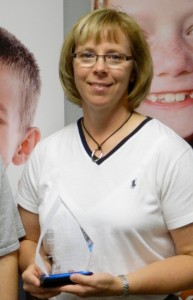 The Children's Trust Fund (CTF) recently presented the 2012 Easter Award to Detective Trenny Wilson of the St. Joseph Police Department for her exemplary efforts in protecting children.  Detective Wilson has served within the Family Crimes Unit of the St. Joseph Police Department Detective Division for fifteen years. She is also a part-time employee for the Northwest Children's Advocacy Center where she conducts forensic interviews for area law enforcement agencies in the region. Det. Wilson is a member of the Sexual Assault Response Team and conducts SANE (Sexual Assault Nurse Examiner) training for medical professionals. She also instructs YWCA advocates and is a frequent guest speaker at the Missouri Western State University Law Enforcement Academy.
The CTF Board of Directors established this award in honor of the late Richard P. Easter, former Director of the State Technical Assistance Team (STAT), who is remembered for his commitment and leadership in promoting statewide prevention efforts to better protect Missouri's children. Since 2000, CTF has presented the award each year to a distinguished law enforcement officer in Missouri for exemplary contributions to the prevention of child abuse and neglect.
CTF Board Chair Tom Vansaghi, Ph.D. and CTF Executive Director Kirk Schreiber presented the award to Det. Wilson before her family, fellow officers, peers and other department members during the appreciation ceremony.
Detective Wilson says the award is special to her because it focuses on such an important subject.
AUDIO: Detective Wilson talks about what the Easter Award means to her.
She says it's important to make sure kids get a good start in life.
AUDIO: Detective Wilson talks about why advocating for kids is so important.
Protecting children is everyone's responsibility. Detective Wilson brings this point home with advice about how individuals can do their part.
AUDIO: Detective Wilson talks about getting involved, even when it may not be easy
More on this story at St. Joe Channel.com