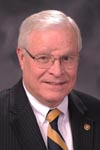 The Children's Trust Fund (CTF),  Missouri's Foundation for Child Abuse Prevention, welcomes Representative Bill Lant, Joplin, to the CTF Board of Directors. Rep. Lant was appointed on February 6, 2013 by Speaker of the House Timothy Jones.  First elected to the House in 2010, Lant represents Newton and McDonald Counties (District 159) in southwest Missouri.
Lant is the owner of Lant's Feed & Farm Supply. He previously worked as a salesman and account executive for ABF Freight Systems and is a former president of the Seneca R-7 School Board. His legislative duties include participating on the Joint Committee on Child Abuse and Neglect where he serves as Vice-Chair, the Committee on Professional Registration and Licensing, the Committee on Transportation, and Chair of the Workforce Development and Workplace Safety Committee.
"I feel extremely honored to be chosen by the Speaker to serve on the Trust Fund Board" said Lant.
A graduate of Collinsville High School in Illinois, Jasper County Junior College, and attended Pittsburgh State University, Lant and his wife, Jane, have three children, William, Stephen, and Craig.
The CTF Board of Directors is comprised of twenty-one members of whom seventeen public members are appointed by the Governor and confirmed by the Senate.  In addition, four members are from the Missouri General Assembly, including two members from the Missouri Senate appointed by the President Pro Tem and two members from the House of Representatives appointed by the Speaker.