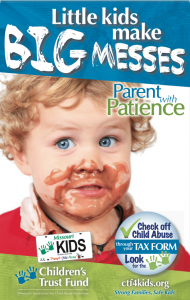 Here is an easy way to help make a big difference in the lives of kids across Missouri:  Please donate to the Children's Trust Fund through the Tax Check-off Program! Whether you are filing online or by traditional methods, your donation will help kids & families in every region of the state.
Funds received each year through the tax check-off program are used to support home visitation for parents with newborns, programs that support parents who have medically fragile children or children with special needs, crisis nursery services, parent education, grandparent and fatherhood support, safe crib/safe sleep for infants & preventing child sexual abuse.  These funds also support CTF's own public education campaigns:  shaken baby/abusive head trauma prevention, parent with patience, emotional abuse prevention and Not Even For A Minute-never leave children unattended in or around vehicles.
"The Tax Check-off program is critical to CTF so that we can continue at least at the current level and hopefully increase prevention programming to our community partners and organizations across the state," said Kirk Schreiber, CTF executive director.  "We are so appreciative of the generosity of our donors who choose to support us financially through this program, and I would like to remind everyone that any donation of $25 or greater to CTF through the tax check-off can be used toward the purchase of a CTF prevent child abuse license plate for your vehicle through the Department of Revenue."
Just look for the handprints on your Missouri tax form and indicate the amount you would like to give to help us Check-off Child Abuse & build Strong Families, Safe Kids!