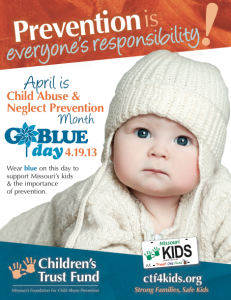 April is Child Abuse Prevention Month and Friday, April 19 is Go Blue Day for Missouri's kids.  On that day, thousands of Missourians will wear blue, the official color of prevention, to show their support for children.  Many other community events and activities are scheduled throughout the month to emphasize the critical importance of preventing child abuse and neglect and keeping children safe.
As part of planned events recognizing children around the state, the Children's Trust Fund (CTF) will be hosting over 265 child advocates, prevention partners, and many other stakeholders for  its biennial state conference on child abuse & neglect prevention – The New River Story, April 2-4, 2013 at the Capitol Plaza Hotel in Jefferson City.  The St. Louis Family & Community Partnership is hosting its annual Child Abuse Prevention Month Rally on Friday, April 19 in St. Louis at the Dennis & Judith Jones Visitor and Education Center in Forest Park.  Missouri KidsFirst is hosting its 4th annual Pinwheels For Prevention Awareness Garden & Rally for Kids on Wednesday, April 17 at 12 noon on the south lawn of the Missouri Capitol.  Over 1,000 pinwheels will be displayed and the Missouri Prevention Partners Coalition will be recognizing 28 communities  who have shown leadership in child abuse prevention awareness.  Boys & Girls Town of Missouri, A Great Circle Agency, is sponsoring the Be A Lifesaver – Prevent Child Abuse Campaign throughout the month of April in Springfield to bring awareness to child abuse and neglect in southwest Missouri.   Wear Blue Day in Kansas City is also being observed on Friday, April 19 with the event sponsored by the Kansas City Child Abuse Roundtable Coalition.  These are just a few of many other community events and activities scheduled around the state to recognize and bring awareness to child abuse and neglect.  Click here for a list of scheduled events for April and throughout the year and download or print the Child Abuse Prevention Month flier (pictured).
Learn how to increase awareness during Child Abuse Prevention Month and throughout the year through the 2013 Prevention Month web section on the Child Welfare Information Gateway website.  The website features:
According to a recent study from the Centers for Disease Control and Prevention (CDC), child maltreatment in the United States costs an estimated $124 billion in health care expenses, productivity losses, use of the criminal justice system and more. The average lifetime cost for a nonfatal victim of child maltreatment is about $210,000, while the cost for a fatal case of child abuse is nearly $1.3 million.
Awareness about child abuse and neglect strengthens communities and builds support for children and families in the effort to prevent child abuse.  Prevention is the insurance policy for good health, mental health, crime reduction, educational and economic prosperity for our next generation.  We hope that you will join the Children's Trust Fund in investing in Missouri's children by supporting prevention efforts and organizations in your community in April and throughout the year.