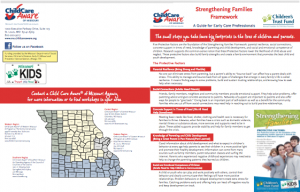 Child Care Aware® of Missouri has been instrumental in working to help communities and organizations implement the Strengthening Families™ Framework (SFF), an effort whole-heartedly supported by the Children's Trust Fund. With the help of Community Based Child Abuse Prevention (CBCAP) grant funding, Child Care Aware® of Missouri has been able to support three related SFF projects, all connected to the Protective Factors and reaching families before they become at risk for child abuse and neglect.  Research shows that when families possess one or more of the five protective factors, their likelihood of abusing or neglecting their children diminishes.  The five Protective Factors are:
Parental Resilience;
Social Connections;
Concrete Support in Times of Need;
Knowledge of Parenting and Child Development; and
Social and Emotional Competence of Children.
The first project included in this effort was the Small Steps, Big Footprints Mailing, which included several specific, easy-to-implement strategies from the Strengthening Families™ Initiative Self-Assessment for each Protective Factor. This information was sent to child care programs across Missouri to provide a quick reference list of ideas on how to reinforce each Protective Factor when working with families.  We spoke with Beth Ann Lang, Chief of Quality Improvement & T.E.A.C.H. MISSOURI Scholarship, with Child Care Aware® of Missouri.  She told us why utilizing the Strengthening Families™ Framework is so important.
AUDIO: Beth Ann Lang on the benefits of the Strengthening Families Framework
The second project was the creation of a college curriculum based on the Strengthening Families™ Framework called Teaching Students to Empower Families. The curriculum was successfully piloted by over 60% of all Missouri-based, community colleges with early childhood degree programs. Now available to all two-year community colleges, it  is expected to be expanded to four-year colleges and other community based programs. The project created a curriculum based on short, specific lessons followed by activities and extended service learning opportunities. Lang says a major focus of the project was making it useful for students and user friendly for instructors.
AUDIO: Beth Ann Lang on the curriculum
The third element was the delivery of the Zero to Three® Preventing Child Abuse and Neglect (PCAN) Training Curriuculum followed by on-site Technical Assistance.  The curriculum includes SFFProtective Factors and addresses ways that child care providers can support the families whose children attend their program/center.  Through the CTF/Child Care Aware® of Missouri partnership, Child Care Aware® of Missouri delivered 48 3-hour sessions of the PCAN training followed by 296 hours of one-on-one site visits to assist 107 child care staff in directly applying what they learned.
Contained within all of these projects is the mission to enhance a child care provider's resources by helping them understand what they're doing well and how they can better support the children in their lives.
AUDIO: Beth Ann Lang on building on the positive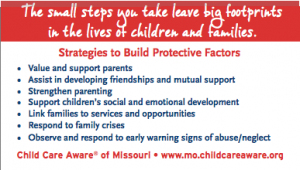 In addition to building projects that support the SFF, Lang says it's important to have the support of organizations that are willing to promote the information that comes from the Framework.  Without such support a wonderful tool is in danger of being neglected itself.
AUDIO: Beth Ann Lang on the role CTF plays
NOTE: The Protective Factors now include a sixth factor, Nurturing & Attachment, which is utilized in some applications of the framework.