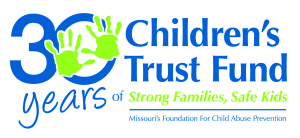 The Children's Trust Fund (CTF) Board of Directors recently awarded nearly $3 million in funding for Fiscal Year 2014 to support over 90 community-based organizations throughout Missouri for the prevention of child abuse and neglect and to strengthen families.  The funds will be used to support evidence-based and promising programs including home visitation, safe crib, parent education, crisis nursery, fatherhood support, sexual abuse prevention, community collaboration and training.  Additionally, CTF promotes public education campaigns such as Strengthening Families, Shaken Baby/Abusive Head Trauma Prevention, safe sleep environments, child safety in or around vehicles, emotional abuse and neglect prevention, positive parenting, realistic expectations of children and stress reduction.
Among the prevention grantees are 36 community-based organizations that market the CTF 'prevent child abuse' license plate.  These grantees specifically promote the license plate to increase prevention awareness and raise funds that are returned directly back into the community to provide programs that help children and families.  Over $128,000 was distributed specifically through the license plate program in Fiscal Year 2013.
"Investing early and often in children and families is paramount to healthier outcomes both now and in the generations to come," said CTF Executive Director Kirk Schreiber. "Prevention is a key component for good health, mental health, educational and economic prosperity that ultimately affects everyone."
CTF receives funding from dedicated fees on marriage licenses and vital records, voluntary contributions designated on Missouri State Income Tax Return, sales of the specialty CTF license plate, general donations, interest income from the Fund, and a Federal grant.  Grants are awarded for one year with the possibility of renewal for an additional four years based on the performance outcome of the program and the availability of CTF funds.  During the last three years, the grantee is required to fund an increasing proportion of the program's cost.
Established by the Missouri General Assembly in 1983, CTF is Missouri's non-profit foundation for child abuse and neglect prevention.  In its 30-year history, CTF has awarded over $51 million dollars of non-general revenue funding to support community-based prevention programs throughout Missouri.